Ali Farahani, linker of the Art of Calligraphy and the Virtual World
Ali Farahani, the young professor of calligraphy with a pen, he was three years old when with the help of his father, he learned how to read and write. When he was a teenager, he went to music school and was supposed to stay in that field, but his life took an unusual turn.
He started calligraphy professionally ten years ago, focusing more on calligraphy with pen. He says: "Now, I teach calligraphy with pen between 10 to 12 hours a day and through virtual world, try to convey this art to my audience. From approximately four or five years ago, I started my activity through Facebook and tried to promote this art, so to the day this art was drawn to television.
In fact, Ali was not the first person to do pen calligraphy, but he was the first to bring it into the virtual world. Apart from mastering pen calligraphy, he is now in the pre-eminent period of calligraphy with pencil.
I asked Ali Farahani that people see you calligraphy with a pen, is it strange for them? He replied that:
"Sure, many are not aware of the pen calligraphy yet, and it's strange for them how with a rounded ball bearing and tip, you can do a broken and Nastaliq line.
Entering the Virtual World
Entering the virtual world and using it, has helped Ali Farahani, an entrance that was initially a mere hobby. "First, I would put photo on my Facebook, then some of these Facebook pages like Hafez, Khayyam, and Rumi, suggested to put my work on their pages. Then I started giving my work to some pages, such as Homayoun Shajarian's page, I would coordinate with the admins on their pages. Homayoun Shajarian's page was the first to put my work. Next Ehsan Khaje Amiri put on work on his page, then a few other singer and then on Facebook made a loud noise and did great, then we started on Instagram and now on telegram".
Alireza Farahani has never neglected continuous practice, even now that he is teaching between 10 to 12 hours.
"When my classes are over, I start practicing so my hand would be ready. I practice all the time. I study every day. I look at calligraphy by pen done by known professors".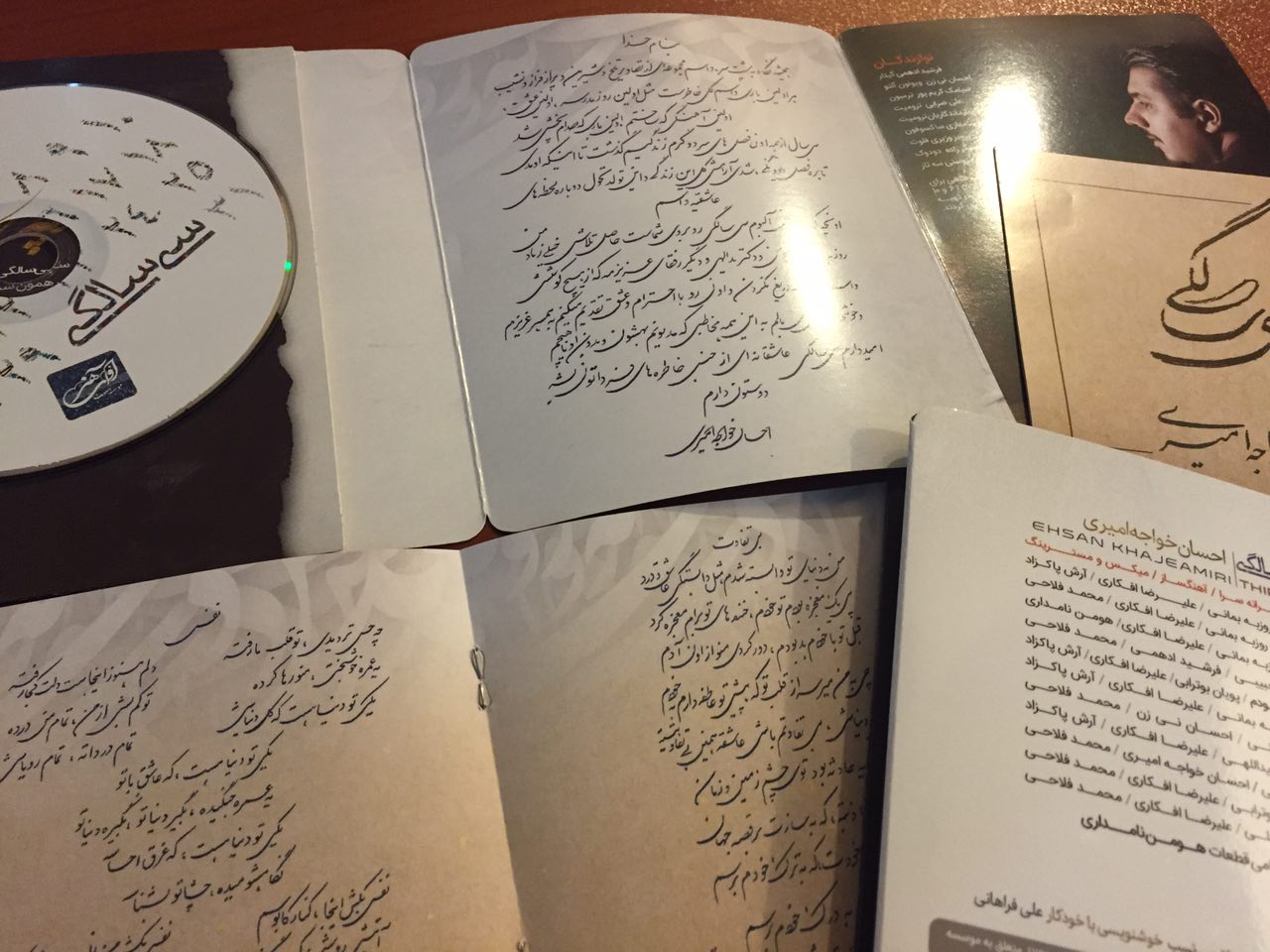 The writings inside Mr. Ehsan Khaje-Amiri's thirties (see-salegi) album by Ali Farahani)
When I ask him about his efforts, he says, that:  we've experience so much, put a lot of poem, tried so hard to get here. Many say that he got lucky, when we actually it was not so much luck, at the beginning, I would visit so many sites and speak to their admins and would ask about the smallest details, such as what time should I post something, I even say that if they give me my page now to a non-professional, he would probably destroy it in two days. I mean it's not just my calligraphy, managing my work has been important as well, like posting an advertisement, where to post it, and …"
What's the story on the bank receipt and how did it get to the television?
"Well, we had posted many works on virtual networks prior to the bank receipt to say you could do calligraphy on any paper, then few instagram pages showed that receipt, just wanted to say the paper is not important. Until Mr. Rashidpour got it and he invited me, we went to the television station and well we answered many questions there".
Regarding the students, do they have a special talent?
In fact, talent shows itself at the professional and end stages, but for daily work and students at the 3 or 4 term level, talent is not an issue, everyone could prove their writing, it shows itself on the first levels.
Many people ask me, "Can I improve my writing? My handwriting is real bad" and my answer is 100%. Being patient and how much time you're willing to spend on practicing your writing.
How long does it usually take a student to get to a standard writing?
"Well, this is a general question. It depends, some have real bad handwriting, and this has placed pressure on them and they have been through hard times because of it, they practice all the time and improve quickly.
In contrast, sometimes, people who come, already have good handwriting the first session, but because they don't a lot of time practicing, they improve slowly, but normally, if someone had a real bad handwriting, with normal practice,  it takes a year to get to a point where everyone around gets surprised".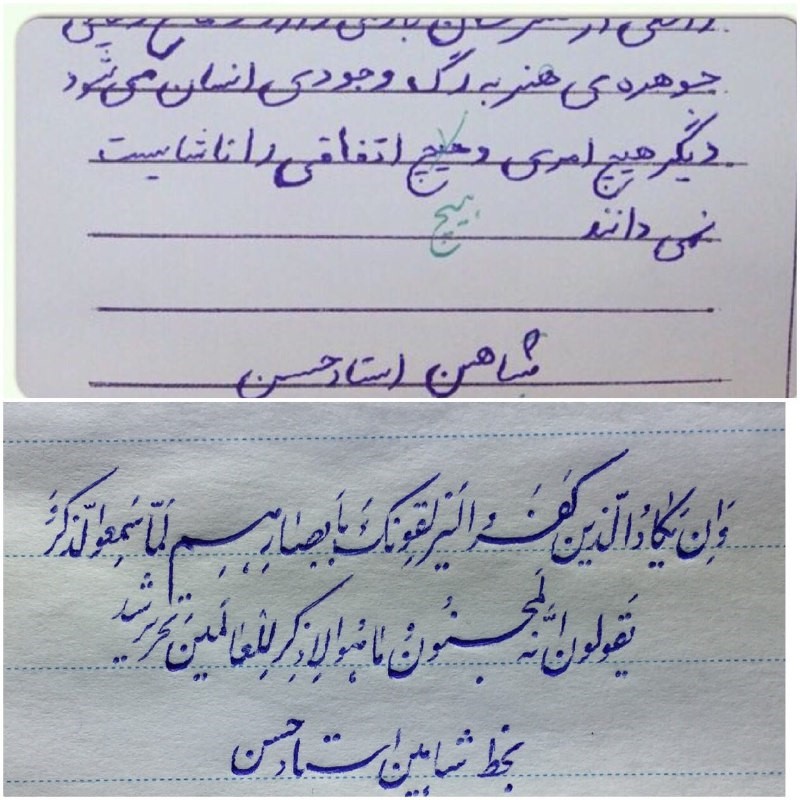 Do you spend money on advertising, or are you happy by just sending messages?
"100%, we spend money on advertising. I spent a lot of money to the channels. The reality in society is a real serious art work is very hard to get off the ground. An entertainment network grows rapidly, but a serious art channel is very hard, if I did not advertise and only be happy with sending messages, my channels would have two thousand not forty thousand followers, and that is considering the best case scenarios. We used our advertisings and got popular by them. Our people are usually looking for entertainment, and well, this makes it very hard for us".
How much do you generally advertise, and do you use admins to manage you channels?
"Almost once or twice a week and from now on, it is going to be more. We started with known and big channels. We paid a lot of money too, but we cared a lot for our work. I tried to place my ads on channels with a serious nature and the ones people could trust".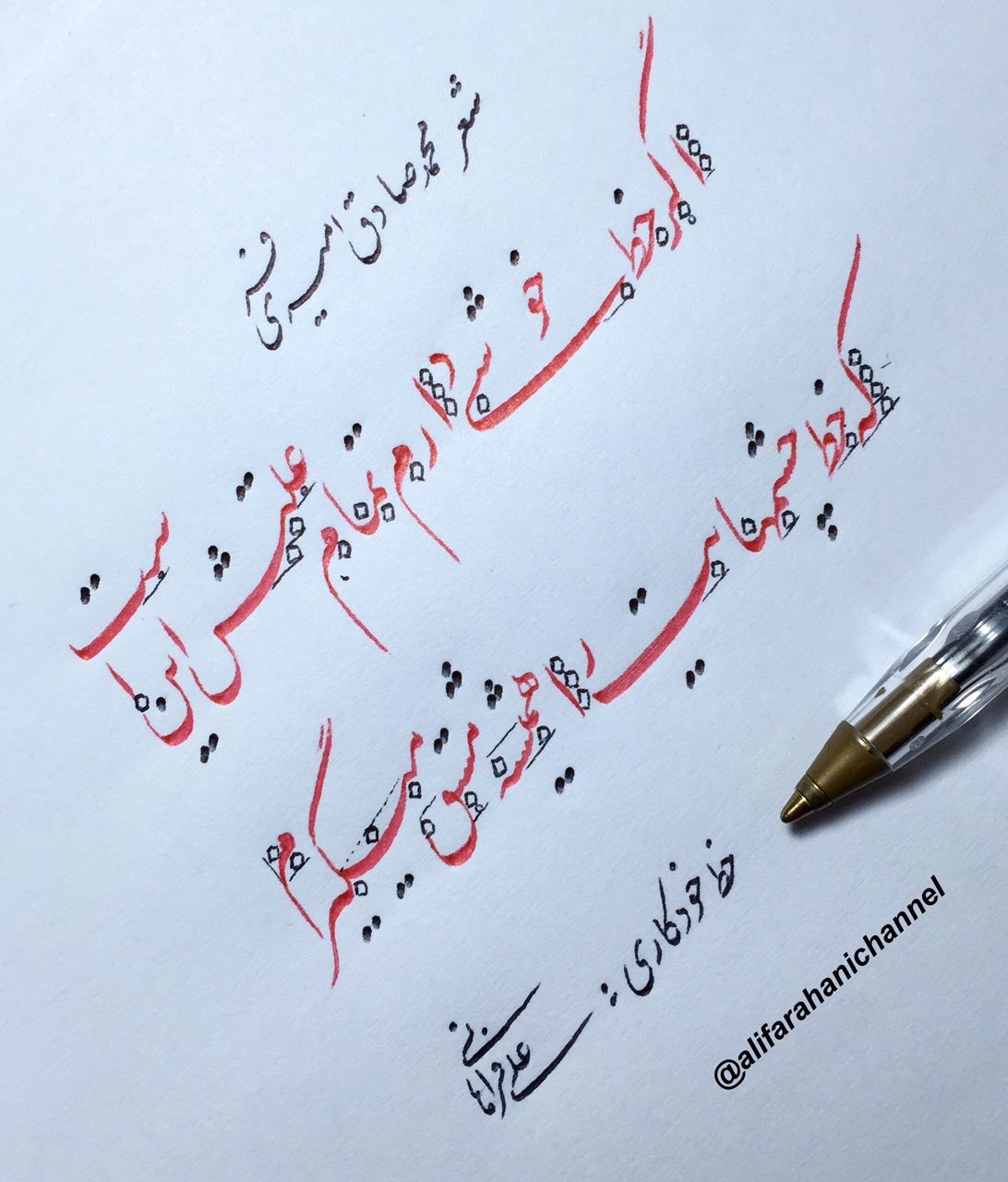 Mr. Farahani has currently expanded his work on the virtual world, preparing handwriting training CD's and sending them customers, and thanks to the virtual world, attracting new audience and introducing their activities to them can be accomplished.
Calligraphy with pen training CDs, by Ali Farahani