Explore Ford's Development and Promotion Strategies
Introduction of the Brand
For years, Ford has been the world leader in the automotive industry. The culture of prioritizing competencies and merits, the creation of the first R & D units, the importance of all aspects of advertising and customer relationship and … had led Ford to always reassure and empower the customer and maintain its position as a giant in the minds. In this article, Sorooshsima is going to explore Ford's development and branding.
Henry Ford, innovative and contemplative in the automotive world:
Perhaps the title philosopher is not right for Henry Ford. But he is undoubtedly one of the few contemplators who has been the founder of the automotive industry.
Henry Ford was born in a village around Michigan, after graduation, his father asked him to work on agriculture. But despite accepting it, Henry Ford was interested in the plowing mechanism instead of farming. His fascination with the mechanical world led him to move to Detroit and work as engineer and technician at Edison Power company. The interest and the study of new technologies led to the invention of the first carriage without a horse in 1896.
Because of intrinsic intelligence in correct thinking and convincing others, even after two defeats in the automotive industry, Henry Ford was able persuade investors to reinvest in 1903. Ford's first model called T Ford priced $825.00 entered the market in 1907 and reached   15,458, 781 worldwide by 1927.
Ford launched the first interchangeable assembly lines at the Michigan Plant. This innovation led to a massive wave in the market upgrades and enhanced competitive advantage at Ford. He (Ford) who had a revolutionary and progressive mentality and always thought differently, by supporting the employees in different methods, he increased their efficiency. For example, instead of nine hours at $2.34, he began paying $5 a day for eight hour work days to15000 workers.
Today, Ford has 108 factories around the world. The supplier of nine brands of Ford, Lincoln, Mercury, Jaguar, Aston Martin, Mazda, Volvo, Land Rover, Ranger, and Edsel brands in North America and around the world.

Ford's Other Leaders:
After losing $7 billion, Lord Alex Trotman was appointed as the Chairman of the Board and C.E.O OF Ford in 1993. Finally, due to his efforts, Ford's stocks went up from $1,145 to $3,225 in in 1998 and by centralizing their companies around the world reduced cost. But some of his work for integration such as replacing parts led to a $10 decline in the stock and eventually led to his resignation in 2000.
The next C.E.O, Nasser Jacques focused on new business models. He laid the groundbreaking strategy of savings and shutting some of the factories that took a lot of energy, preliminary strategy to adjust cost among all models of calls (different modules). With the creation of Risk Metrics center began exploring partnership, market, and operational risks annually. This center was designed to forecast the future, thus was able to make Ford more successful than the past. By studying different magnitudes of risk possibility Ford was able to select qualified representatives and independent in different countries.
Ford Development Strategies:
Ford's Operational Strategies:
To strengthen his factories around the world, Henry Ford used upward vertical integration system in such ways that he bought all suppliers of Iron, coal, and … this is how he reduced both cost and material errors. But in the 70's, with increasing rivals, especially the power of Japanese factories, Ford concluded that by importing parts from factories that are manufactured overseas, he could significantly reduce costs.
By forming small and specialized teams, Ford was looking to created strategies to optimize flexible assembly and production lines. Seeking to empower supply chains followed by a single supplier strategy, despite the fact, it raised prices, it has led to consolidation of Ford's competitive and profitability position.
Ford Company's General Strategy (Porter Model)
Ford's overall strategy changed over time. At first, the strategy was cost management.  This general strategy, supported commercial competitive advantage based on cost and price reduction to attract customers. In the early 1900's, Ford's vision was to make his cars affordable for the American workers. To apply strategy, the company expanded the assembly line method to minimize cost and maximize productivity. The company has managed to attract many more customers based on this general strategy.
Influence in the Market
This intensive strategy involves more sales to current customers for business growth. Ford applied the influence strategy by increasing the number of its dealerships and sales volumes. The increasing growth strategy is followed up with the strategic goals of increasing customer retention and customer base.
Product development
With the help of long experience in automotive engineering, Ford has been trying to make technology and beauty in its designs be a strong point of its products. Ford applies this growth strength strategy through research and development investment to innovate new products like Ford Focus Electric. In the world of hybrid cars, Ford built Fusion 2017 that lasts 610 miles (981 Km) on only one charge, and by 2020, by investing $1 billion, it will unveil 13 electric cars and will continue to invest in the safety features and environmental benefits on its cars.
Market Development
Ford's strategy to expand markets goes beyond those products that are currently being sold.   In order to increase market development, this company understood the culture of the market based on needs and to facilitate its own market, it began building a plant in England in 1911 and now it has a plant in more than 108 countries around the world.  With the main focus on quality with minimum cost compared to competitors, to attract new customers Ford executives always accept new markets like China, India, and Hong Kong and so on.
Merger
Ford is constantly looking to show off its influence in the world. For example, in 1989, Ford Company bought Jaguar cars and Land Rover in 2000, but because of its profit margin, they sold it to Tata Motors of India in 2008. Ford also owned the Swedish Volvo Company between 1999 until 2010.
Focus
Ford's strategy of focus on the market is known through maintaining customer relations and improving services, this company strives to maintain its position by focusing on the needs of the customers. For example, by providing small autos Fiesta and Fusion, mid-size and services autos, it focuses on achieving more balanced global models.
Ford's Branding Strategy:
The basis of Ford's marketing approach was based on the needs of consumers in different parts of the world. By focusing on demands and production based on the consumers' needs, Ford was able to infiltrate their markets and become globally surprising.
Ford uses different advertising strategies to maintain its marketing edge over competitors and is one of the top 20 leading companies in the media. Ford's advertising strategy has a direct and indirect adverting dimensions. Direct advertising such as mass media like television, newspapers, radio and so on. And the indirect advertising is like sponsorship, shows, discounts for authorized dealers and sales promotions. In spite of the fact that Ford cut spending on their advertising budget and cancelled all of their advertising during the recession, but through organizing advertising campaigns and long term and regular sponsorship of sporting events, it was never forgotten.
In 2013, to advertise its new models, Ford spent $2.6 billion on advertising. $800 million of this amount has been spent on television advertising. Ford's budget for advertising in 2013 was approximately 13 times more than 2012.
Ensuring customers, Ford Brand:
The Ford brand is simple, powerful and stable and in the changing world, it has always been a leader. Ford's Logo and single syllabus name has always been in our minds. Ford's oval shape and blue logo represents the rise, reliability and commitment, especially financial reliability for customers.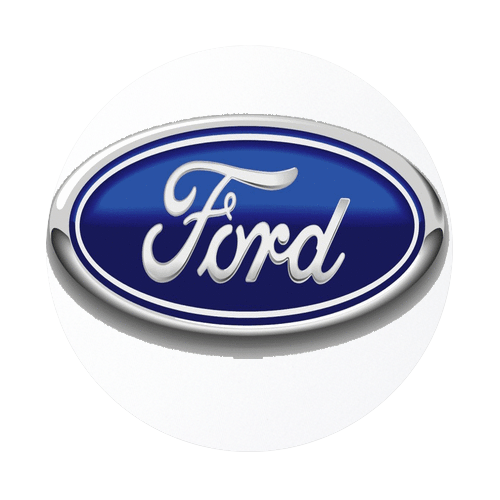 Ford has a unique brand stability, product strategy and performance. Ford is tailored to the customer and produces its product based on their needs, where the C.E.O engages with customers through social networks.
Ford's advertising:
Ford's first advertisements illustrated its marketing intellect.
The production and sale of an auto specially designed for everyday use, has been designed professionally and for families, a car that is appreciated and admired by women, men and children for the sake of compactness and compression. Comprehensive simplicity, safety, comfort and above all of that its incredibly affordable price, which makes it available to thousands of people who could have never dreamt about paying for legendary prices that most cars are asking for.
Ford's memorable and remarkable billboard of the Ford Mustang has been forgotten. This billboard was all around the world for moving animations. A concept that correctly intertwined with the product, is looked at and is seen.
Ford has always associated with their clients through humane and interactive messages. It has lot of active, intimate and amazing presence on all social networks. For example, on the Vine network in which they can only place six second videos, it offers awesome moments of its cars. Interestingly, Ford is also active on Tumbler a social network for teenagers and is working to influence the next generation. Twitter is very accurate with the presentation of short and effective sentences to clients which illustrates a highly competent advertising experts.
The Facebook page has a surprising impressive 2.2 million followers. In one of its promotional campaigns, Ford urges its followers to take photos of bad roads and post them on their page. With this simple campaign, Ford reminded their clients that bad asphalt conditions may damage the vehicles. Their Facebook activities are simple and intimate with respect and they respond to all of their clients' posts. By posting attractive and creative photos for the first time on Instagram, they always keep their clients eager to see these campaigns.
An advertising campaign by Ford in the PSA field (Public Safety Announcement) was very attractive and posted on Instagram. The image posted was on pedestrians passing through the street through a driver's view, so the famous Instagram heart, which is the same is liking it was at the center of the image and made it impossible to see pedestrians exposed to danger.
This attractive and charming campaign may cause a mistake and ignoring pedestrians for a moment. The striking feature of it, the correct and proper use of visual capabilities of the media and the power slogan of this advertising campaign in the minds of people.