Sorooshsima Podcast #16
Billboard Design Principles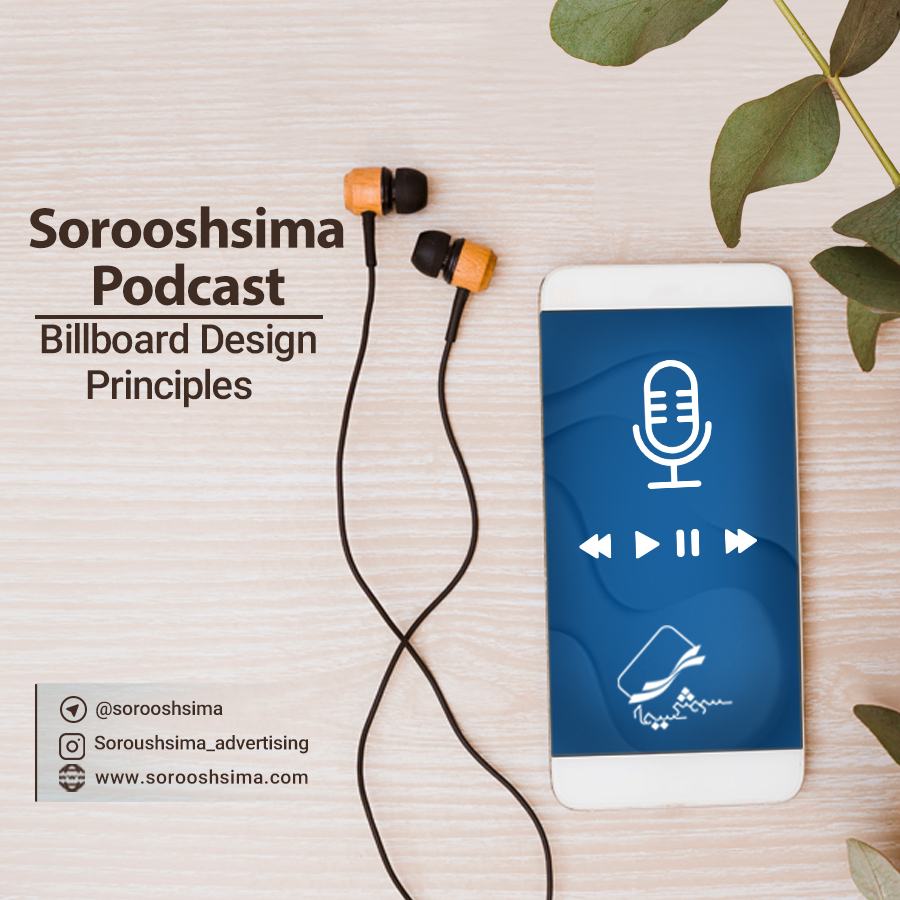 Billboard is derived from the two words, Billing and Board, which mean making money through boards. In fact, this is what is called advertising. In fact, billboards are known as environmental advertising.
Billboards are big advertising boards that you pass on the streets and highways every day. What attracts the motorists and pedestrians is not their overwhelming size. The main reason for the effect of billboards is the content of their advertising message and their design.
Considering the high cost of advertising on billboards compared to other marketing and advertising methods, attention to design and ideas on them is of particular importance.
Just like previous years, today your customers don't look at billboards and urban advertising, instead they are more interested in their cellphones, tablets and games. This is why, their eyes stare downward and pay less attention to billboards.
However, billboard advertising is the best method to convey the message to people in the neighborhood or a particular direction, therefore billboard advertising should not be overlooked. But everything has its own principals, and the choice and design of the billboard is no exception.  
In most companies, when it comes to advertising for a product, the first option after television and radio is to design an advertising billboard.
Certainly, using billboards to introduce products and services is a great option, especially in peak hour of traffic on streets and highways where drivers can't do anything else except pay attention to billboards.
What really matters in this type of advertising is that companies and advertising agencies are looking to sell and rent their billboards and their primary goal is to make money not to give you advice and help you. Billboard content design is something you have be very careful with to get your message across to your customers.
We as viewers could have different views on every aspect of advertising, but can't deny the fact that billboards are a symbol of the constant flow of life.
As a result of visualization, during the last three decades of the nineteenth century, a close connection between painting and print was forged, also, social and cultural needs required that billboards be created at the society level. In fact, billboards were created to meet the needs of society to exchange information at that level. For example, during the First and Second World War, the role of billboards was very bold and they were considered powerful tools for advertising.
When creating a board graphically, there are a few things to consider:
Message transfer rate
Message transfer quality
Considering the national culture and identity
With the advent of the internet, the role of billboards was expected to diminish, nowadays, not only has the activity of billboard increased, but also, it has taken on a new form. Creative advertising billboards are famous as outdoor media and are known as outdoor media tools. Today, with increasing competition among different brands, billboards are used to raise awareness of the brand or brand awareness.
Advantages of using creative billboards:
Easy to see
Accessibility and availability
Ability to perform high quality graphic ads
Billboard size fits cost
High speed of efficiency
Key point when designing a billboard:
before you begin the design, Know the product
You need to know everything about the product you want to promote and advertise and determine the client and the message of the company. It is best you choose the location of the billboard, however if the location is pre-determined, you should know the exact location.
Essays prohibited
The fewer words you use to introduce your product and convey your message, the greater the chance of it being more effective. You have to be careful about where your billboard is installed and consider the speed of the cars. Advertising experts consider six seconds for every billboard. So use fewer words and more images to get your message across quickly.
Use effective color and design in designing a billboard
You have to be able to capture the client's attention with colors and elements. Using interesting designs is one of the hallmarks of success in billboard design, but at the same time, understand that a billboard is not a painting or a work of art. So, don't overdo it.
Don't fill all the space!
Never put you site address or contact number on the billboards. Keep in mind that passersby have a lot on their mind and don't pay much attention to address and telephone numbers placed on a billboard. So don't waste you ad space, trust me some free space is not bad either.
Be creative and smart
Your promotional content should not be boing and dull. Design you advertising message so it fits the client's personality.
Increase the number of billboards
While billboards are not cheap, they can have a huge impact on your business. You need to rent more than one billboard. Each billboard has a GRP rate that is determined by traffic, position, size, etc. the GRP number is between 0 and 100, which means if the GRP for a billboard is the number 50, which means that 50% of the population of that area has seen one of your billboard in one day.
Final design test
After observing these tips, you should answer these questions:
Will your ad be seen? Do passersby read it?
Can people understand the meaning and message of your ad?
Before finalizing the project and its implementation, print your billboard the size of a business card and show it to a few people and ask their opinion. The most important point is what they tell you after seven to 10 seconds. Is everything that has been printed on it as understandable as it was displayed on the monitor?